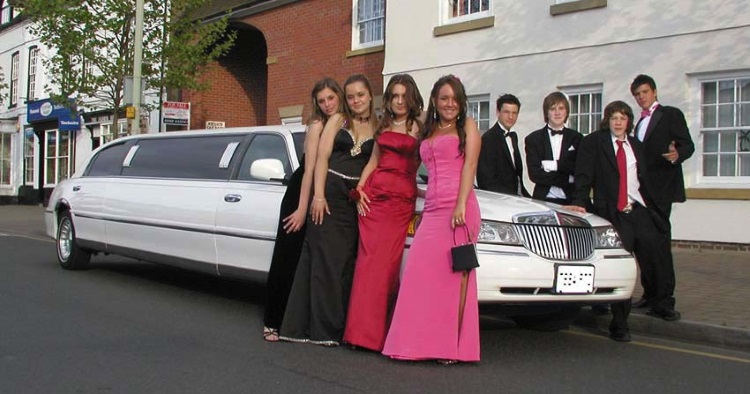 You're ready.  You've made it.  All the studying has paid off and you gaze into a future bright with promise. You're ready to walk into that bright future and rock it hard. You're a graduate!
Prom is just around the corner and you want to celebrate your graduation, not just from school, but from childhood.  You're about to become a promising young adult.  It's a little scary, but it's also an important life passage you want to hang onto, with memories that last a lifetime.
Prom night is a momentous occasion that only comes around once.  You and your friends have been planning what to wear, the after parties and the decorations.
It's a bittersweet time, when you know the friends you celebrate with will all go their separate ways.  Prom is probably the last time you'll all be together in one place.  You want everything to be perfect for a magical night.
Blue Streak Limousine is the northeastern USA's premier prom limo service.  We've been making prom night unforgettable for young people on the cusp of adulthood for more than ten years.
Prom night is a great American tradition.  As a premium prom limo service, we offer all our guests top-flight hospitality.  Graduates are tomorrow's leaders.  You're all VIPs at Blue Streak.
Arrive in style in a Blue Streak prom limo
On prom night, everyone's dressed to impress.  It's your moment to shine like the bright young thing you are.  Imagine rolling up in one of Blue Streak Limo's luxurious vehicles.
Honour your prom night finery by arriving in style, in a classy prom limo.  All eyes on you as you alight like a celebrity, the door held open for you by one of our courteous, well-attired drivers.
Our stretch prom limos accommodate up to 22 people with the Hummer stretch in our stable.  That's plenty of style and elegance to accommodate you and your friends.  As you enjoy the ride, sip a soft drink on ice from the mini-bar.  Watch the flat screen television, or listen to a DVD.  Blue Streak Limo's amenities are on the leading edge of transportation hospitality.
Beyond prom.
Your prom doesn't have to end with the fading notes of that last dance of the night.  Maybe you and your friends want to make it last with a ride to the Jersey Shore, to watch the sun come up on your first day as grown up.
With Blue Streak Limo, anything's possible.  Our professional planners organize the itinerary of your dreams to ensure that car and driver are where you need them to be, when you need them to be there.
Blue Streak Limo is fully licensed and insured, so mom and dad can relax while you enjoy prom.  We're a well-established business with a tradition of service and excellence.
Your chariot awaits.
Prom night is a memory to last your whole life long.  A Blue Streak prom limo is the icing on your cake of cherished memories.  Call to discover the quality and service of our prom limo tradition.